Stanley Galik, the 7th of 10 children, was born to immigrant parents on November 23, 1922 in Belmont (Richland Township), Ohio. His father John, from Nowy Targ, Poland, and his mother Anna from Cervencia, Saris, Slovak Republic came to the United States in the early 1900s. As other immigrants did before them, Dad's parents sought a new and brighter beginning in America. Stan had 3 sisters and 6 brothers. (Victoria "Vic", Frank, Lloyd, Mae, Anthony "Tony", John "Jay", Andrew "Andy", Dorothy, and Edward "Eddie")
Below is a photo of Dad with his younger brother Andy taken when Dad was probably 5 or 6 years old and his brother 2 or 3 years old.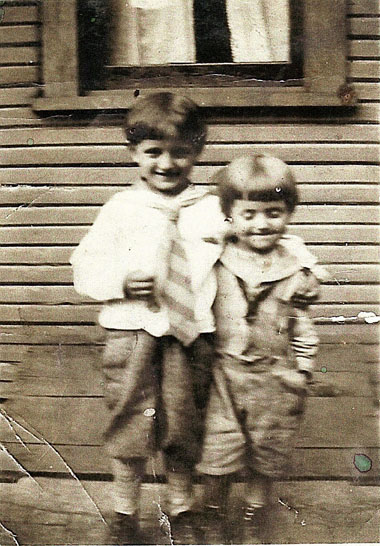 STANLEY GALIK WITH BROTHER ANDREW GALIK
ANNA GALIK - MOTHER

Dad's parents moved from Ohio to Braddock, PA (Western Pennsylvania) when he was four or five years old. Dad didn't talk much about his childhood or teenage years, except to tell of his family's continuing struggles to care for and feed a large family during the Great Depression. Dad's father, whom he really admired, died tragically in 1936 about a week before his fourteenth birthday.

As a teenager Dad usually hung out with a number of his friends or "pals" as he called them before he joined the Civilian Conservation Corps and enlisted in the US Navy. Dad called his friends "the Mob" and you could usually find them outside a local store where they often drank Pepsi and "shot the breeze" together.

| | |
| --- | --- |
| Pictured on the right are his friends holding bottles of Pepsi. Bob Pigman, third from the left, was one of Dad's closest friends. Dad joined Bob and 2 other friends in signing up to work at a CCC camp in Pennsylvania in 1941. Bob followed Dad's lead and enlisted in the US Navy in September 1942. | |